We Have Been Awarded the McLean Award
Best Moving Company Of 2022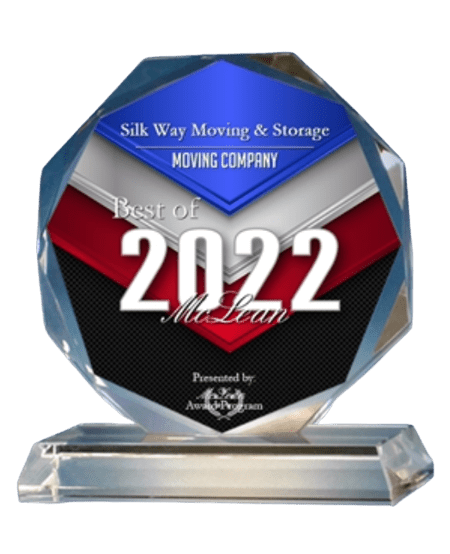 Silk Way Moving & Storage In The Media
Click on the images to see our media coverage
Senior Moving Services
Our senior moving company has relocated senior citizens to independent living and assisted living facilities. As our customers manage their senior transitions, our personnel are particularly sensitive to their demands. Professional packing services, loading and unloading, disassembling and assembling furniture, transporting, and unpacking are all included in our senior moving services.
Veteran Moving Assistance
Silk Way offers veteran moving services to those who have committed their lives to serving our great country. This offers award-winning local moving and storage services for people who have bravely served in any branch of the United States military or the United States National Guard.
We offer discounts and incentives to active and retired military personnel! Fill out a quote form and we will make sure you are well taken care of
The silk way 4 easy steps
Our easy 4 step process makes sure you are moved in quickly and efficiently.
Fill out our quote form or give us a call directly to get started on your move
Our crew packs up your items into a truck, drives to your new location and unloads.
We give you a detailed quote at a price that makes sense with no hidden fees.
Enjoy your new home without having to worry about lifting heavy items.
For Immediate Assistance
+1 703 947 0515
Here's What Our Client Say About Us
Silk Way Movers did an excellent job once again. Thank you, Mike and your team for providing a stress free move to our new home. We used this company twice for the last 2 months and would highly recommend them to anyone looking for moving professionals!
Mike and his team arrived exactly on time.They had loaded all the boxes within 30 min. The team was really flexible with my need to make changes to the original request. They worked quickly and efficiently. My initial estimate for six hours the actual move took 6.5 despite all the changes I asked for. They were cheerful and helpful throughout. Actual costs were within 200 dollars despite the increased work request.
The three men- movers did a great job to move our house! They are very kind and nice. Take care of everything, my piano, sofa and huge table although it was hot outside!! Recommend! Thank you so much!
Let us know what you need to move and when. We'll handle the rest.